'Learn continually- there is always 'one more thing' to learn'- Steve Jobs
Our world is rapidly evolving with dynamic changes taking place sooner than expected. A fast- changing world has brought many new global challenges, such as global warming, climate change, air and water pollution, waste generation, and other environmental issues. To adapt and flourish in the future, organisations will need to constantly learn and evolve with the latest in technologies and skills.
Our trainers are subject matter experts with over 350 years of combined experience in conducting customized trainings for organizations. The Training Programs are conducted live, in-person and also available through our secure and easily-accessible digital platform.
In addition, we work with our clients to create customized trainings that is tailor-made to suit the requirements and goals established by their governing body.
The Krÿstähl Academy is established to provide the best-in-class, and mandated
trainings to organizations, considering the industry trends and Government
regulations and the learning and development charter of various organizations. We offer subject matter expertise through our different centers of learning, allowing your organization can stay ahead on the best practices as well as global advancements and the fast-paced changes. 
Krÿstähl offers a unique form of training curriculum i.e. Consulting-based
training programs to help companies address key sustainability issues, close gaps and enabling our client to set up effective actions for the
implementing climate and sustainability strategies, and a range of ESG initiatives.

Upcoming Training Programs
14-15 July 2023 (2 days), 10:00 am – 5:00 PM IST
MODE: Online, Live & Recorded
Online Training on Circular Offices &
Industry Clusters
–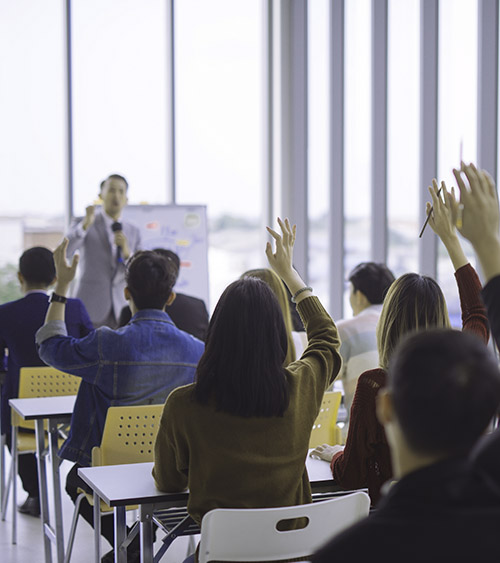 11-12 August (2 days),
10:00 am – 5:00 pm IST
MODE: Online, Live & Recorded
Online Training on Circular Economy and Vehicle Scrappage Policy: Automobile Sector
11-12 August (2 days),
10:00 am – 5:00 pm IST
MODE: Online, Live & Recorded
Online Training on Circular Economy and Vehicle Scrappage Policy: Automobile Sector
12-16 Sept 2023 (5 days), 10:30 AM – 5:00 PM IST
MODE: Online, Recorded & Interactive
Training on Pathway To Setup
An E-Waste Refurbishment,
Dismantling or Recycling Unit, In India
3,4,5 Nov & 17,18 Nov 2023 (5 days), 10:30 AM – 5:00 PM IST
MODE: Online, Recorded & Interactive
Training on Pathway To Setup
An E-Waste Refurbishment,
Dismantling or Recycling Unit, In India
04-05 Oct 2023 (week-1)
11-12 Oct 2023 (week-2)
17-19 Oct 2023 (week-3)
MODE: Online & Live Training on Sustainable Finance
Training on Sustainable Finance
Organisations trained till date
Average client satisfaction score
Completed Training Programs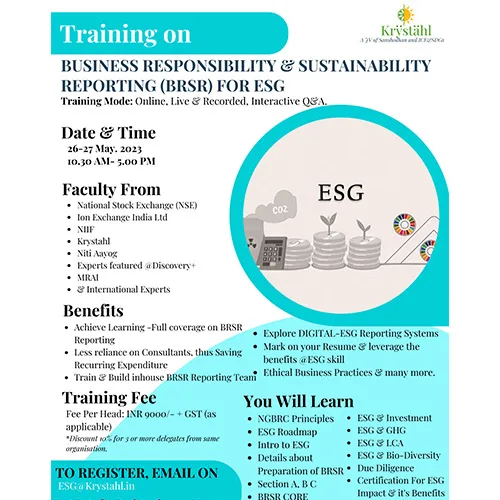 Business Responsibility and Sustainability Reporting (BRSR) for ESG
Business Responsibility & Sustainability Reporting (BRSR) for ESG
Nature Based Solution to Combat Climate Change
Climate Change & Impact on Businesses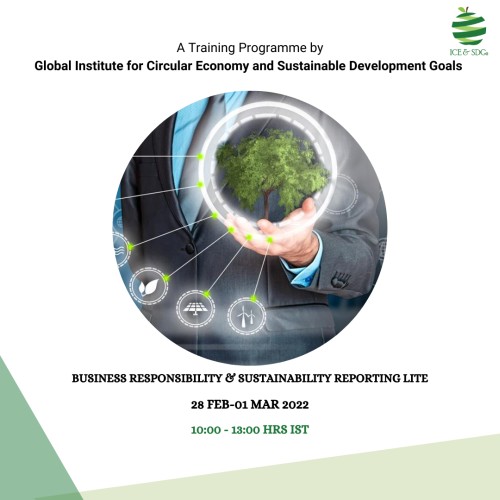 Training – Business Responsibility & Sustainability Reporting Lite
Circular Economy and Vehicle Scrappage Policy: Automotive Sector: 24-25 Feb 2022
Training – Circular Offices and Industry Clusters
Circular Industries & Organisations: 18 February 2022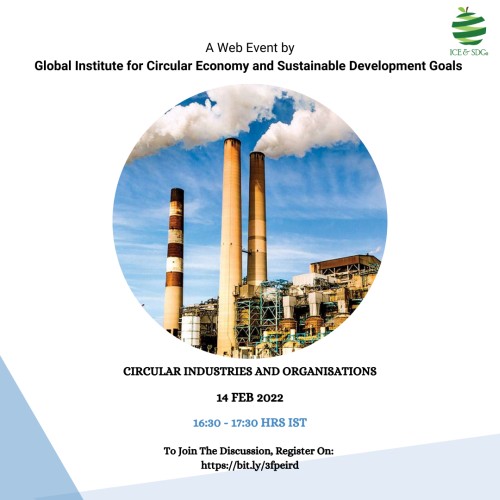 Circular Industries & Organisations